Every rough diamond we choose is a natural beauty. It was made by Mother Nature and we prefer to keep it that way. We don't see imperfections, we see personality. Isn't that what makes us who we are? Love it like it is.
ASSISTANT DESIGNER TO MOTHER NATURE
It wasn't until her ex-husband returned from Antwerp with hundreds of photos of raw uncut diamonds, that Maya first saw diamonds in their natural form and fell in love. With all the imperfections laid bare, she saw their effortless natural beauty.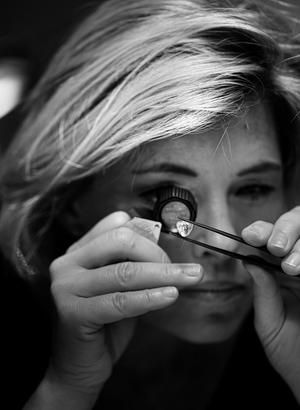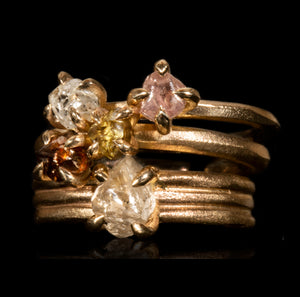 Rough diamond rings
At Roughdiamonds.dk you'll see the beauty in the imperfect, the natural and the unique. Here, the diamonds are not chosen based on the classic 4 C's – Cut, Colour, Clarity, and Carat. Instead, it is the raw, uncut diamonds' inherent beauty, inner life, and character that takes centre stage in the story.
Shop Rough diamond rings
COLLECTIONS OF UNCUT DIAMOND JEWELLERY
We craft different kinds of jewellery with uncut diamonds as bespoke orders, but be sure to check out what uncut diamond jewellery we have in store.
Sisters. Not twins.
With uncut diamonds, it is impossible to find two identical twin diamonds. Roughdiamonds.dk's founder Maya Bjørnsten will always aim to find sisters – uncut diamonds that have the same inner fire, similar carat weight, and overall expression. It is the beauty and the tricky part of working with rough diamonds.
Shop Raw Diamond Earrings
The hidden boutique
To make diamonds, a rare beauty of nature, perfect conditions are needed. To make jewellery with raw uncut diamonds and for you to find your perfect gem, perfect conditions are needed too. Our Hidden Boutique and Workshop on Bredgade is indeed a rarity worth finding.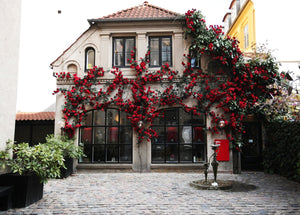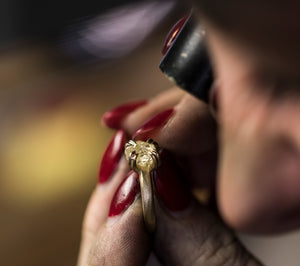 Our workshop
All our unique Danish design jewellery pieces are designed and handcrafted in the Hidden Boutique. This allows you to follow the piece from loose rough uncut diamond to finished fine jewellery piece.
Unique engagement rings
Your partner is not like the rest, so why should the ring be? At Roughdiamonds.dk, you will find a world of unique engagement rings in 14 karat gold, white gold, and rose gold. Rough uncut diamonds which are exactly as Mother Nature created them a minimum of 900 million years ago. It makes them older than the dinosaurs and more worthy to be a strong symbol of your never-ending love story.
Shop Raw diamond engagement rings