Raw diamond engagement rings
You have found the person in your life. Now you just need the right unique engagement ring. Your partner is not like the rest, so why should the ring be? At Roughdiamonds.dk, you will find a world of unique engagement rings with rough diamonds set in 14 karat gold, white gold, and rose gold.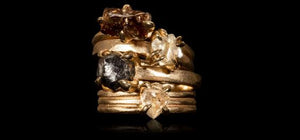 Raw diamond engagement rings
We embrace all those little imperfections in raw uncut diamonds. We love them like they are. To us, that is the secret beauty of the rough diamonds, brave enough to show their beauty to the world without any cutting and polishing. That is the secret beauty of being and loving life as it is.
Each diamond has its own vibrancy and lustre for life. To cut it is to change its very personality. Just like your love. 
Why raw uncut diamond engagement rings?
Many chose diamonds to represent their undying love by putting diamonds in their engagement rings. Why? The eternity behind the creation of diamonds. Uncut diamonds are exactly as Mother Nature created them a minimum of 900 million years ago. It makes them older than the dinosaurs and more worthy to be a strong symbol of your never-ending love story.
Just as diamonds are eternal, so is love. And we believe love cures everything. Learning to love imperfections will feed your soul for a lifetime.
Raw stone engagement rings - 
FROM ANTWERP TO COPENHAGEN 
Designer and founder Maya Bjørnsten often travel to the diamond capital Antwerp in Belgium. Here, she is among the very first to handpick the most beautiful rough diamonds for engagement rings. She relies on her touch, discerning vision and experience to handpick the diamonds that are special enough to love just the way they are. 
The selection is wide and unique, but Maya only chooses the diamonds that have something special and unique. The ones that make her fall in love with them. And so she returns home to the small cottage and the Hidden Boutique, a stone throw from the Queen's palace in Copenhagen. 
The cottage is home to both the Hidden Boutique and Maya's own workshop where all the pieces of jewellery and all the edgy and fantastic Danish design jewellery rough diamond engagement rings are handcrafted from scratch. Here, Maya's discerning eye, her hands, her head, and of course her heart starts creating the base for the diamond in the rough that you can share with your love. Instead of tampering with Mother Nature, Maya lays bare all inner life and character, the effortless natural beauty, uncut and perfect imperfections of uncut diamonds. 

In the Hidden Cottage, you can find that uncut beauty, which is right for your love story and beloved. In collaboration with Maya you can find the design of your engagement ring based on the right raw diamond for you. Your perfect rough diamond engagement ring - your very own unique engagement rings. Already engaged? See handcrafted wedding bands here. 
Unique engagement rings for unique love stories
To us, the best moment is when we see an engagement ring get a new loving home and become part of a special love story. The rough diamonds from Mother Nature waited over 900 million years for Maya Bjørnsten to handpick them. Thus, it is even more important for her and her team that the diamonds' stories are right, true, and authentic from their very beginning. 
Only conflict free diamonds for your raw diamond engagement ring  
We know how important it is that your engagement ring is as unique and real as you and your love story. And so we want to celebrate and honour that every step of the way. At Roughdiamonds.dk we work exclusively with conflict free diamonds which comes from the good stories and diamond mines from all corners of the world. 

We choose to go beyond the Kimberley Process, a procedure that ensures that the diamonds have not been involved in funding in any conflict. We source our raw beauties from Europe's most trusted diamond dealers in Antwerp who are members of the Responsible Jewellery Council that makes extra efforts and has more attention to diamond trade in accordance with human rights, social and environmental practices as well as transparent and accountable manners from the second the rough diamond appears from the mine to the moment it enters the diamond market in Antwerp, Belgium.
Whichever raw beauties you decide should represent your love, you can rest assured that they are all certified from the moment they are found in the mines in South Africa, Canada, Australia, Russia, Tanzania, Angola, and a lot of other countries to the moment our diamond dealers receive them in Antwerp. Every single unique engagement ring with a raw uncut diamond comes with a certificate that describes the piece of jewellery, its value, and guarantees that the diamond has been traded ethically correct. 

Bespoke raw diamond engagement ring
All our unique engagement rings with one-of-a-kind rough diamonds are created in our Hidden Boutique. Here, our two goldsmiths and diamond setter work tirelessly to make Maya's visions come true. It takes time, effort, skills, and passion to work with the imperfect rough diamonds in a clean Scandinavian jewellery design. And because no two raw diamonds are the same, no two pieces of jewellery are the same. We wouldn't want it any other way.
We craft different kinds of rough diamond engagement rings as bespoke orders, but be sure to be inspired by what we have in store. 
Please note, from the 1st July 2021 eCommerce purchases are required to charge the VAT rate based of the buyer's shipping country on all orders within the EU Non-EU residents will pay excluding the Danish 25% VAT based on the shipping address being outside EU. Purchase price will change after selecting your shipping address.
Do you wish to make an inquiry on a special order?
Go to bespoke order