Collection of uncut diamond necklaces
Classic diamond necklaces come in a ton of variations, shapes, and lengths. At Roughdiamonds.dk, you will find diamond necklaces with a twist: Uncut diamond necklaces. In a ton of variations, shapes, and lengths. We give you a wide variety of uncut diamond necklace choices: Set in single prongs. Set in double prongs. Floating on a necklace. Uncut diamonds set side-by-side. Or an understated uncut diamond collier.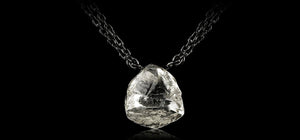 Diamond Necklaces
We also give you a wide variety of materials for your raw diamond necklace: Black rhodium, rose gold, white gold or the classic golden colour, a hue that may be the best of colours to bring out clarity of a whitish raw diamond. In 14k and 18k gold. Double chain or single chain. Most rough diamond necklaces can be resized to your preferred length free of charge. Because just like diamonds are all unique, so are we. And we want our uncut diamond necklace to look the most beautiful on your neck or collar bone. See our necklace length guide here.  
Handpicked raw diamonds for each diamond necklace
All handcrafted uncut diamond necklaces are set with raw diamonds that are handpicked by Maya Bjørnsten. Conflict free, ethically sourced diamonds only. And so what all of our uncut diamond necklaces have in common is that they are unique. All of our uncut necklaces are created with the specific purpose of showcasing the raw beauties at their finest.
To Maya, raw diamonds are perfect. With all their imperfections laid bare, you see their effortless natural beauty. They are not the "perfect" shape, but they are perfect. It is the raw, uncut diamonds inherent beauty, inner life, and character that takes centre stage in the uncut diamond necklaces of her creation. Every piece is unique and for the designer, Maya Bjørnsten, Roughdiamonds.dk's founder and Assistant Designer to Mother Nature, it is important that it is equally comfortable to wear in everyday life and for that special occasion.
A necklace with a raw diamond is like a talisman
What is the first thing you fiddle with, when you are nervous? Your necklace. It is the thing that frames your features and that you hold onto during times of stress and happiness. It makes it one of the most important pieces. Some might even call it a talisman.
There is no better talisman than a rough diamond necklace. The ancient Indians believed it protected against sickness, evil spirits and bad omens – as long as it remained as Mother Nature had created it. And this is why they were venerated, protected, and fought over. To have a necklace with a raw diamond was a sign of power. And still is to this day.
The uncut diamond necklace: Powerful, strong, and beautiful
Natural raw diamonds are as different from one another as you and me. Each and every one comes from Mother Nature, where she carefully handmade them a minimum of 900 million years ago. Before the internet was a thing. Before the Great Fire of London. Before the pyramids were built. Yes, even before the dinosaurs were dating. 
They are true pieces of eternity and that is celebrated by the company of Roughdiamonds.dk, which specialises in raw uncut diamonds of the finest quality. It is these specific pieces  that are set into one-of-a-kind raw diamond necklaces in different sizes and lengths to suit the intended wearer.
Bespoke uncut diamond necklaces
All our uncut diamond necklaces are handcrafted and one-of-a kind in our workshop. In our Hidden Boutique, our two goldsmiths and diamond setter work tirelessly to make Maya's visions come true.
It takes time, effort, skill and passion to work with the imperfect rough diamonds and to set them in an edgy, simple and clean Danish jewellery design necklace. And because no two raw diamonds are the same, no two uncut diamonds necklaces will ever be the same. We wouldn't want it any other way.
We create different kinds of raw diamond necklaces as bespoke orders, but be sure to be inspired by what we have in store. If you have any questions regarding the jewellery, delivery, return policy etc., please contact us or read this FAQ answering many of the questions we get the most. 
Please note, from the 1st July 2021 eCommerce purchases are required to charge the VAT rate based of the buyer's shipping country on all orders within the EU Non-EU residents will pay excluding the Danish 25% VAT based on the shipping address being outside EU. Purchase price will change after selecting your shipping address.
Do you wish to make an inquiry on a special order?
Go to bespoke order