What is the first thing you notice about a person? Probably their eyes. The windows to their soul. Close to that is the small detail that can help underscore the features of the face and the beauty of the mind. It is the earrings. 
A beautiful twin-set of raw diamonds in 14K handcrafted gold settings will underscore the features of the face and give it an edge. It might not look like the diamond earstuds, you normally see your grandmother wear. But it is a modern spin on a piece from eternity. Modern and edgy with a twist. That's what a pair of raw diamond earrings can do for you.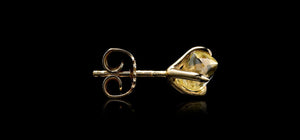 Raw Diamond Earrings
And we have a wide variety of uncut diamonds earrings. We have raw diamond earrings as studs, creoles, or dangling. Raw diamond earrings with a single stone or more stones. Smaller stones or bigger uncut diamonds. With triangle shaped or spherical uncut diamonds. Set in single prongs or double prongs. Whitish diamonds or diamonds with a coloured hue. And of course set in various materials - 14k or 18k gold, rose gold, and white gold. Even in black rhodium. 
See this size guide for our rough diamond earrings to find the right match for you. 
Rough diamonds: Sisters, not twins
When we think of diamond earrings, we often think of the classic round brilliant. It is beautiful, but to the naked eye you have a hard time seeing the difference between two. With raw diamonds, it is a completely different story. 
It will be impossible to find two identical rough diamonds. Roughdiamonds.dk's founder and assistant designer to Mother Nature Maya Bjørnsten will always aim to find sisters – rough diamonds that have the same inner fire, similar carat weight, and overall expression. It is the beauty and the tricky part of working with rough diamonds set in earrings.
What material for your raw diamond earrings?
Handcrafted earrings in gold with a natural uncut raw diamond will give warmth to your face's beautiful features. 
White gold is colder in colour and will give an edge and cooler feel to the whole expression.
Rose gold tends to be in-between which makes a perfect match for certain skin tones and hair colours - and in particular for certain rare and unique pink diamonds set in rose gold, making them a unique dream of different and edgy pink diamonds earrings.
For the ultimate contemporary looking raw diamond earrings, go for black rhodium as the backdrop for your favourite uncut diamond earrings. 
Which style for your raw diamond earrings?
To Maya Bjørnsten raw diamonds are perfect. With all their imperfections laid bare, you see their effortless natural beauty. They are not the "perfect" shape but they are perfect. And just like we see the beauty in the imperfect, the natural, and the unique, we love the perfect imperfections of every person that has ever come by the Hidden Boutique. 
So we can safely say what style of uncut diamond earrings that suits you depending on what you wish to enhance. Would you like to draw attention to your beautiful swan neck? Or focus on the dept or shape of your beautiful eyes? 
Do you like the sensation of hoops dangling from your lobes? A delicate drop earring? Or a discreet - yet edgy stud earring with a huge, raw uncut diamond? You decide and we are here to help you find your perfect uncut diamond earrings. 

We can give you a small guide to how the different rough diamonds earrings and styles will look on you. But ultimately, the expression you want and aim for, can only be determined by what you think suits you and the windows to your soul.
See all our rough diamond jewellery here.
Bespoke uncut diamond earrings
All pairs of raw diamond earrings are handcrafted and one-of-a kind. In our workshop in our Hidden Boutique, our two goldsmiths and diamond setter work tirelessly to make Maya's visions come true.
It takes time, effort, skills, and passion to work with the imperfect raw diamonds and to set them in an edgy, simple, and clean Danish jewellery design earring. And because no two raw diamonds are the same, no two raw diamond earrings will ever be the same. We wouldn't want it any other way.
We create different kinds of raw diamond earrings as bespoke orders, but be sure to be inspired by what we have in store. You can also read our FAQ and get all your questions regarding our jewellery answered. 
Please note, from the 1st July 2021 eCommerce purchases are required to charge the VAT rate based of the buyer's shipping country on all orders within the EU Non-EU residents will pay excluding the Danish 25% VAT based on the shipping address being outside EU. Purchase price will change after selecting your shipping address.
Do you wish to make an inquiry on a special order?
Go to bespoke order