Jewellery helps to mark life occasions, and here at Roughdiamonds.dk we have a very soft spot for weddings because we believe that love cures everything. Learning to love imperfections will feed your soul for a lifetime. Your special love story deserves special wedding bands. Personalised wedding bands. A connection and unity custom made for you.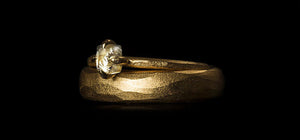 Unique wedding bands
We hear from many couples that the wedding day is over in a blink of an eye. The celebration, the love, the loved ones, the speeches, the memories created - all of it over in a split second. That is why we are strong believers in creating unique wedding rings just for you. As unique and traditional or non-traditional wedding rings as you prefer them to be.
We want your wedding rings to be as unique as your love. To be a happy memory of that special day every time you look at your hands. 
Personalised unique wedding bands
At Roughdiamonds.dk we will work with you to create the exact ring of your dreams with beautiful rough diamonds. We create them from scratch in 14 karat white gold, rose gold or gold, so we can always adjust them to your hands, wishes, and ideas. Because just like your love may grow stronger, so will perhaps your fingers. 
We can craft the most amazing non-traditional wedding rings for you, and if you like, we can make one or both of them with a raw diamond of your personal choice creating your personalised wedding bands. 
You can read more about
wedding bands here
. 
Edgy handmade and unique wedding bands
Founder and assistant designer to Mother Nature, Maya Bjørnsten, has created handmade wedding bands with her special rough signature surface, which her Scandinavian jewellery brand is famous for. 
Sharp facets are gently brushed, so they become soft and comfortable. Perfect for wearing every single day. The rough surface is handcrafted and ensures that not two rings are identical. A set of unique wedding bands that become a beautiful symbol of two individuals and strong persons bound together in a loving relationship. 
Make your wedding bands personal
It is possible to engrave all our wedding bands - a name, a date, a quote, a single word. Your favourite song or a motto. Whatever thoughts or memories that make your heart sing. Let your handmade wedding bands carry a small secret for you two lovers and be a constant reminder of your love. 
Personalised wedding bands and rings
Many couples choose diamonds to represent their love because of the eternity behind their creation. Eternal like your love. Learning to love imperfections will feed your soul for a lifetime.
If your wedding band is destined to be even more unique and personal, you can choose to have a rough diamond embedded to it. We embrace all those little imperfections and love it like it is. To us, that is the secret beauty of the rough diamonds, brave enough to show their beauty to the world without any cutting and polishing. That is the secret beauty of being and loving life as it is. Each diamond has its own vibrancy and lustre for life. To cut it is to change its very personality. Just like love. 
Raw diamond wedding rings
Maya Bjørnsten can present you with a broad selection of Mother Nature's raw beauties. They come in many shapes, sizes, and colours. So there will be one that fits your love, so you can find the right rough diamond as a symbol of your love. Maybe a green diamond to match her eyes? Or a yellow diamond as a memory of that warm summer day you had your first date? The possibilities are endless and we are here to help you.
A symbol of special occasions in life and of the personal style, Maya says:
"It is all about love in the end. Loving each other as we are, loving all the flaws and imperfections. No matter who we are and who we love. To me, a rough diamond is a gift. Two of my male friends asked me to create the rings for their town hall wedding ceremony and it was just magical to see the rough diamonds become part of their love story." 
All diamonds are handpicked for their unique beauty by Maya herself. Of course conflict free, ethical raw diamonds only. 
Getting engaged first?
Have a look at our rough diamond engagement rings.
Please note, from the 1st July 2021 eCommerce purchases are required to charge the VAT rate based of the buyer's shipping country on all orders within the EU Non-EU residents will pay excluding the Danish 25% VAT based on the shipping address being outside EU. Purchase price will change after selecting your shipping address.
Do you wish to make an inquiry on a special order?
Go to bespoke order