Diamond bracelets and uncut diamond bangles
Our handcrafted rough diamond bracelets come in 14 & 18 karat gold, white gold, and rose gold - and for an even more edgy expression: black rhodium. We have the more chunky uncut diamond bangles that have a more solid expression. Both can really add that little extra to your daily outfit - for ladies and gentlemen.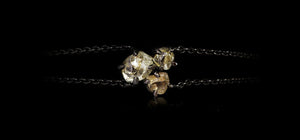 Diamond bracelets
Roughdiamonds.dk's diamond bracelets are nothing like anything you've ever seen before. What sets these diamond bracelets and diamond bangles apart from any other bracelets and bangles are the unique raw diamonds as the centerpiece.
See this size guide for our diamond bracelets to find the right match for you. 
A simple diamond bracelet with a raw diamond as centerpiece
All handcrafted diamond bracelets are set with uncut diamonds that are handpicked by Roughdiamonds.dk's founder and assistant designer to Mother Nature Maya Bjørnsten. Conflict free, ethically sourced diamonds only. 
It's not Maya's passion for Danish design that makes Roughdiamonds.dk unique. It's her hands, her eyes, her head, and of course her heart. Instead of focusing on the cut of the diamonds, Maya relies on her touch, discerning vision and experience to choose the diamonds that are special enough to love just the way they are. To make unique and edgy yet simple diamond bracelets to adorn your wrist. Match your beautiful diamond bracelet with a unique necklace with rough diamonds. See our collection of rough diamond necklaces here. 

A diamond bracelet for protection
Did you know that your wrist is one of the most sensitive places on your body? Try to run a finger, or even better, a feather lightly over it. Feel the tingling sensation, like the touch of a lover's hands.
The ancient Indians believed that rough, uncut diamonds protected the soul against sickness. So, what better place to wear it than as a bracelet on the body's most sensitive place?
That place is where your bracelet sits. If you choose with your heart and soul, it will be a constant reminder to stay connected to your body and to remember that you are home and safe.
A simple diamond bracelet says it all
Even though it might be the last piece of jewellery that you put on in the morning, the diamond bracelet adds that extra detail and touch to any outfit. Roughdiamonds.dk's designs are special enough to wear both day and night, edgy enough to stand out with an elegant black dress and unique enough for gentlemen to wear. See all our men's jewellery here. 
That is one of the beautiful things about a raw diamond bracelet or an uncut diamond bangle: The rough diamond makes it unisex. Each simple diamond bracelet comes with their own character, personality, and style. You are the one that enhances it.
To your raw diamond bracelet from Mother Nature
The legends of the rough diamonds are countless. And to Maya Bjørnsten they are all true. She believes in the power of the natural rough diamonds and having the raw beauties from South Africa, Botswana, British Guinea, Ghana, Lesotho, Russia, Australia and Canada set in one-of-a-kind bracelets customised specifically to your wrist size and your wishes for an unique piece of jewellery. 

Every piece with a natural rough diamond has its own charm, sparkle, and personality. For Maya it is important that the gems match the wearer's personality and style, while being a beautiful reminder of Mother Nature's eternal love.
See all our rough diamond jewellery here. 
Bespoke raw diamond bracelets and bangles
All our one-of-a-kind rough diamond bracelets and bangles are crafted by hand in our Hidden Boutique. In the workshop, our two goldsmiths and diamond setter work tirelessly to make Maya's visions come true.
It takes time, effort, skills, and passion to work with the imperfect rough diamonds and to set them in an edgy, simple and clean Danish jewellery design. And because no two raw diamonds are the same, no two pieces of jewellery will ever be the same. We wouldn't want it any other way.
We create different kinds of raw diamond bracelets and uncut diamond bangles as bespoke orders, but be sure to be inspired by what we have in store. If you have any questions regarding the jewelry, process, return policy, delivery, etc., please contact us or read this FAQ answering many of the questions we get the most. 
Please note, from the 1st July 2021 eCommerce purchases are required to charge the VAT rate based of the buyer's shipping country on all orders within the EU Non-EU residents will pay excluding the Danish 25% VAT based on the shipping address being outside EU. Purchase price will change after selecting your shipping address.
Do you wish to make an inquiry on a special order?
Go to bespoke order